IT Chapter Two
Evil resurfaces in Derry this September as the Losers Club return to where it all began.
IT Chapter Two is the chilling conclusion to the highest-grossing horror film of all time, but what's changed since we were last here, which Hollywood names are joining the cast and just how easy does the actor who plays Pennywise find it to get back into character?
Andy Muschietti and actor Bill Skarsgard (yes, another one) bring Sam FM up to speed:
"The mood in Derry isn't great", explains director Andy Muschietti, who began pre-production on the final installment pretty much as the first film hit cinemas. "The atmosphere is always poison. It's an extension of the evil of Pennywise, even when he's dormant - and things have gone from bad to worse".
Being back in Derry was a real labour of love for the guy who will direct DCEU's The Flash in 2021.
"I've been with this project for a long time, shaping it, going through the challenges of that, and also having a lot of fun".
"I had such a strong connection with the process of making the film, it was hard for me to see it from the other side. But obviously, it was amazing, and I was incredibly pleased and really flattered".

Bill Skarsgard and Andy Muschietti look well at the IT Chapter Two world premiere
So what's changed since we last saw The Losers Club?
"It's the same band of characters, 27 years later", Muschietti explains. "They're in their 40s and their fears are a little more layered and profound, and all related to childhood trauma. These characters are all professionally very successful but they're damaged".
"All of them, there's a pain in them that they never resolved because there is a trauma that was surpressed for years. And now they have to head back to Derry to face their trauma".
James McAvoy, Jessica Chastain and Bill Hader join the cast as grownup members of The Losers Club along with Isaiah Mustafa, Jay Ryan, James Ransone and Andy Bean. They were choices that producer and screenwriter Barbara Muschietti says were being considered as early as the first film.
"We never stopped thinking about who the adults would be. There were always two conditions: one was that they obviously had to be great actors; and two, they really had to look like their young counterparts. I think we wound up with the perfect group of adult Losers".

Hello, losers
Book-wise, Stephen King's IT novel is a bit of a behemoth. It clocks in at over 1,100 pages which would have made for quite the bum-numbing cinematic experience. Instead, the 2017 film covered around 300 of those, leaving the concluding chapter to tell, as Barbara Muschietti puts it, "A much bigger story in every way. Deeper. Better. Scarier. Epic".
Even though the current movies are a narrative departure from the original way the story is told, Andy remains a big fan and was keen to include it across the two films.
"I love the dialogue between the two timelines", he reveals, "and I always wanted to include that".
You can listen to the full interview with Bill and Andy talking to Damien St John here: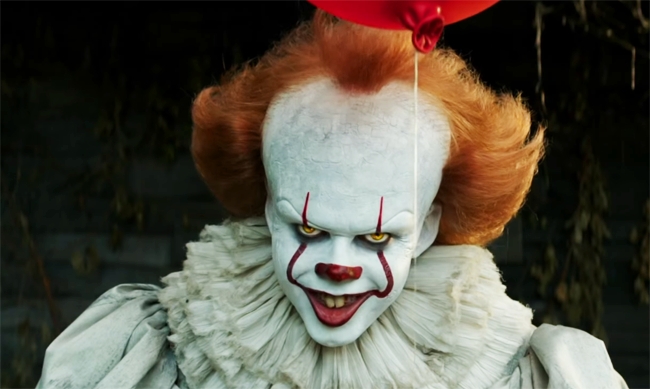 Heeeere's Bill
Bill Skarsgard is back to terrify us as the killer clown Pennywise, a process he found daunting at first.
"Shooting the first movie, even going into production, we were still figuring out a lot of things along the way", Bill remembers. "It's not uncommon for me on the last day of the shoot to do 'Now I know what the character is!', but (in this film) we had him much more figured out so we just ran with it".
And a last-minute decision from Muschietti meant Skarsgard had to return to Pennywise much quicker than he'd anticipated.
"Andy wanted me to a little motion-capture test months before we started shooting the second movie, so we could see the technology and how it translates. But then he asked me to shoot a scene the next day and we showed up on the day and Andy shouted 'Action!', and there he was, like not a day had passed".
"It (literally) flew through me and surprised me how dormant but very much still there the character was".

Tim Curry rocking the unhinged ginger look from the 1990 mini-series
"The original Pennywise and IT was a huge hit in Sweden", Skarsgard remembers.
"The TV mini-series had a big impact on people of my generation and older, and the book as well. IT might be the most popular of Stephen King's books, so (growing up) I was very familiar with this".
Coulrophobia is the fear or irrational fear of clowns and it's not a recent phenomenon.
Thousands of years ago, court jesters would terrorise members of the public with strange pranks, lewd behaviour and jokes of questionable taste - perfectly acceptable at the time, under the auspices of comedy - but given today's cynical times, plus the fact we know we're watching a movie, why are we still afraid of clowns?
If you know, drop us an email here

Nobody move, there might be a danger occuring
Generally, phobias are no laughing matter but as Skarsgard recalls, a fear of clowns was one an old class-mate simply had to get over.
"A friend who I brought to the premiere was completely traumatized by Tim Curry and as a result had a clown phobia that, therapeutically enough, his best friend played the new version of Pennywise and forced him to sit through the movie".
So, even without the makeup, do parents with kids avoid him on the street? "I'm a delightful guy in real life".

IT Chapter Two is in cinemas now.
More from Sam FM
Icons of rock 'n roll, Aerosmith to ZZ Top, tune in to Sam FM Greatest Hits, everyday from 7 pm.

The Sam FM ale is a delicious drink and you can now start selling it at your pub. Register your interest in selling Sam FM ale here and find out what pubs already do.